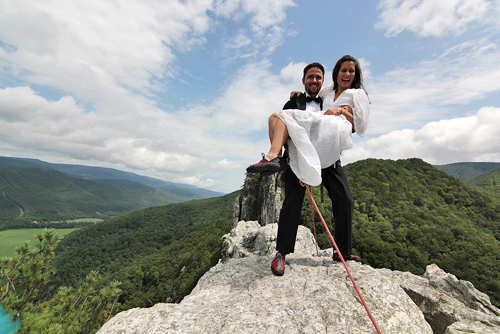 "I think it really is an adventure for two people to get married," says Dean Holbrook from Utah. "You go through life mediating your differences – but building and going forward. And every period of life is a new adventure." Holbrook and his wife Elaine learned to successfully navigate the ups and downs of marriage, and they found out how to appreciate each other's eccentricities and accept their differences.
For some couples, of course, it's helpful to see a counselor to talk through problems and reach a peaceful resolution. What's more, with so many marriages suffering breakdowns, counseling has become even more important than ever.
Tying the knot is a venture into an unknown world of risks – but also possibilities. And in the spirit of the proverbial "leap of faith" that is marriage, some couples have chosen to make their weddings one-of-a-kind, adrenalin-fueled experiences. Whether their ceremonies involved roller coaster rides or plunging thousands of feet from an airplane, these couples opted for risky and adventurous ways of saying "I do."
10. Snowboarding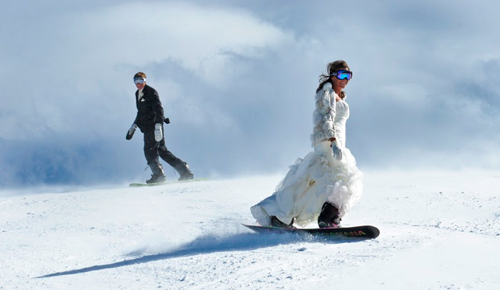 According to Sweetoccasions.com, more and more couples are choosing snowboarding and skiing weddings. See, when partners are passionate about the sport and passionate about each other, it's the perfect combination. Snowboarding weddings allow couples to be with the ones they love, while also taking part in an activity that's special to both people getting married.
Says Sweetoccasions.com: "It only makes sense that this would be a romantic, and personal place to say your vows… Fly down the hill and enjoy the rest of the day in some powder!" One such couple, Victoria and Matt, tied the knot in Banff, Alberta. They wanted to get married enjoying what they'd fallen in love doing: snowboarding! Thomas R. Lee from the Department of Family and Human Development says, "Having fun together is essential to keep the glow going in your marriage." So why not start right away?
9. Skydiving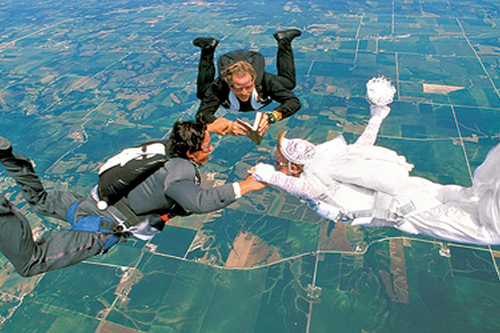 Before they were married, Emily and Alan Toole enjoyed doing adventurous activities together such as scuba diving, snorkeling and paragliding. So, it only made sense that they would take that same adventurous spirit to the "altar." According to ABC News, after a quick ceremony, the newlyweds, the pastor and two bridesmaids all took the leap.
Phil Liu, the manager of SkyDive Utah, says, "We get a lot of proposals, but not too many marriages." Yet with each flight lasting only 10 minutes, it's certainly a quick way to get hitched. On the Tooles' wedding, Liu adds, "The pastor did a quick two or three-minute ceremony, the instructors tightened the harnesses and then they all jumped."
8. Zip-line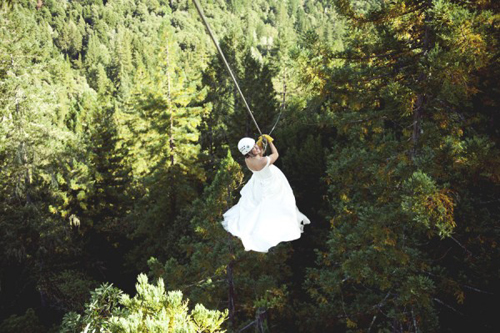 For bride Kate and groom Aaron, walking could more appropriately be called soaring down the "aisle." After saying their vows, the pair strapped on harnesses and zoomed off through the air. The couple got married at the Alliance Redwood Christian Conference Center near Occidental, in California.
Kate had to have a special dress designed for the occasion: a slit was cut into two of the three layers of her gown, with the outside layer falling in drapes around the straps. The couple spent nearly an hour zipping through the trees together, before heading back down to the ground. They did, however, stop halfway down for a mid-air kiss.
Still, not all zip-line weddings are problem-free. The Huffington Post published a video of one such big day in which the groom crashes into the bride during their descent. That said, at least it gave the couple an early opportunity to see the humor in less-than-agreeable situations.
7. Roller Coaster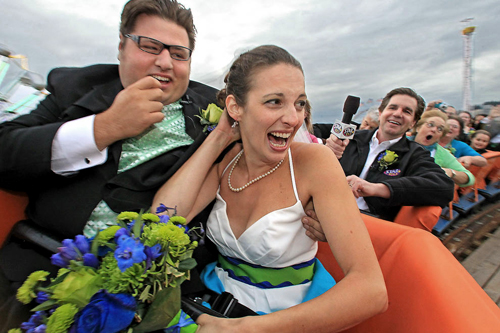 Sarah Petty and Robert Scherzer embarked on a thrill ride from the top of a roller coaster moments after saying "I do." The couple, from Magnolia, Seattle, met six years previously when they were both working at a Broadway production company. And perhaps their wedding vows were even more meaningful because they were followed by an immediate real-life metaphor for sticking together through all the ups and downs.
Friends and family piled into the coaster and enjoyed the ride with them, providing cheerful support for the newlyweds. What's more, radio station STAR 101.5 FM broadcast the event live, while ordained minister and show co-host Kent Philips officiated the ceremony, which took place at the Puyallup Fair, WA.
6. Wakeboarding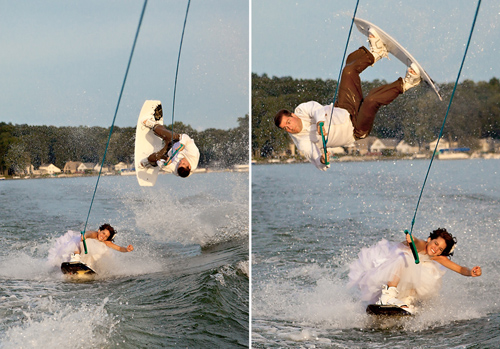 This couple, Amanda and Ben, were married at the Bay Pointe Inn on Gun Lake in Michigan. After the ceremony, the bridal party celebrated on a boat. And since both the bride and groom had been on a ski team together, they decided to duck out for a bit of wakeboarding. As you do.
Doing something they love together turned out to be a great addition to the wedding – not to mention the wedding photography! Videographer Ryan says, "They came back wet and ready to dance. It was awesome."
Perhaps this kind of out-of-the-ordinary event bodes well for fun-loving couples like Amanda and Ben who enjoy activities in each other's company. "Amanda had the best attitude of any bride," recalls Ryan. "Super laid back and was constantly wanting to make sure everyone was having fun."
5. Scuba Diving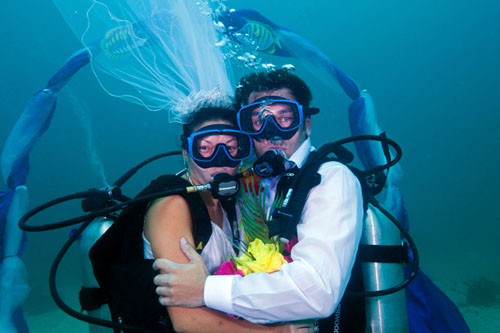 If rushing over the waves weren't exciting enough, some couples have taken the plunge into marriage deep underwater. As Iva Roze Skoch, of the Global Post, puts it: "When one's marriage journey begins thirty feet under, it's fairly likely things can only go up from there."
Polish couple Ewa Staronska and Pawel Burkowski made the Guinness World Records for the largest underwater wedding when they said their vows on August 27, 2011. The wedding included 303 divers, the bride and groom, the priest, altar servers, support, and journalists.
Thai couple Manit and Jane also got married underwater. In fact, this unique marriage method is so popular in Thailand that there's a two-year waiting list for the chance to take part in a mass underwater ceremony. Salil Tohtubtiang, the Chairman of the Trang Chamber of Commerce, which organizes the event, says, "More than 60 couples applied this year [2012], but we could only accept 34."
4. Rock Climbing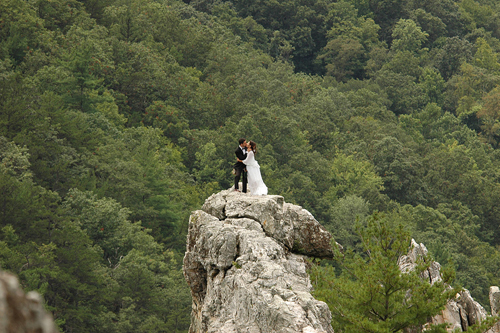 Avid rock climbers Bob and Antonie Ewing got engaged atop their favorite route on Seneca Rocks in West Virginia – and then they decided to get married there as well. Antonie and Bob climbed up the 900-foot summit in full wedding attire, Bob in a tuxedo, and Antonie in her mother's wedding dress.
"Seneca Rocks is our absolute favorite place in the whole world," says Bob. "It's the perfect place to spend the weekend: breathtaking views, good-hearted people, fantastic climbing, and no cell phone reception." Six others made the climb with them, too, while other family and friends kept in touch using walkie-talkies.
3. Zero G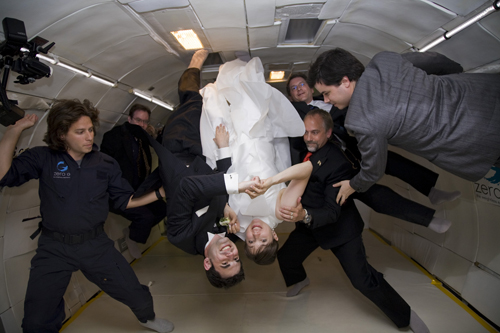 For anime and space travel fans Erin and Noah, love made them literally weightless. They got married on a Zero G Corporation aircraft, while space explorer Richard Garriott officiated the ceremony. In doing this, the couple went down as the first to be married in zero gravity.
"We really think the future is space, and that private citizens ought to be able to travel there," Erin writes on her blog. "We want to promote space travel as a positive thing." Erin flew all the way to Japan to buy a special space wedding dress, and Noah had to have a tux specially designed for the event. Pushing the boundaries, exploring new places, and sharing interests is surely going to keep this couple together for years to come.
2. Bungee Jumping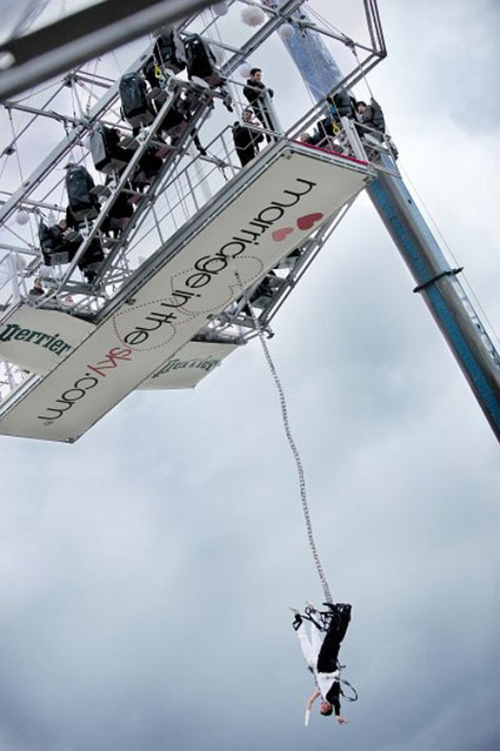 Some couples have taken the "leap of faith" marriage presents them with literally. Belgian couple Sandra and Jeroen tied the knot 150 feet in the air on a special platform created by company Marriage in the Sky.
Friends and family were strapped into airplane seats and watched the couple exchange their vows, while musicians provided accompaniment on a separate platform. The couple then leapt off the edge in a dual bungee jump and kissed upside down. "We were nervous at first," says Sandra; "but then they help you jump and then once you jump it's great. It's a great feeling. It feels like you fly a little bit."
1. Wingwalking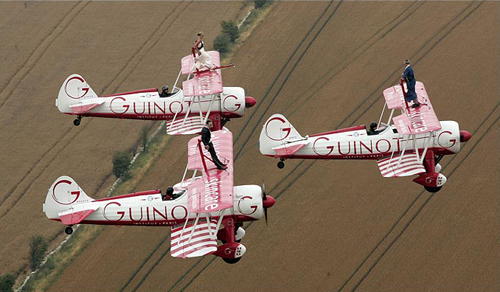 British couple Darren McWalters and Katie Hodgson made their wedding about as daring as it could possibly be – by wingwalking. The bride, groom and vicar all stood atop three identical biplanes flown by formation wingwalkers Team Guinot.
Rev. George Bringham stood facing backwards on the lead plane and conducted the ceremony through loudspeakers. "The only hairy moment was when I thought my goggles were about to come off," he said.
The couple, who got engaged in a Brazilian rainforest, wanted, in the groom's words, "A wedding blessing that would top my proposal." As for the bride, she says that she became more adventurous as she grew older and brings out the daring streak in Darren, who used to be afraid of heights.
Marriage is a great big adventure, and constant encouragement and the sharing of experiences is a fantastic way to keep the memories flowing. We hope Darren and Katie have many more escapades together!